Two years ago we went to the San Diego Comic Con 2004 and met up with Sean and Peggy who had a table set up at Artist Alley to promote Sean's book Runners, which has since been collected into a trade paperback. Last year, Agnes was eight months pregnant and we didn't make the trip down to San Diego. This year, we decided to go again. The Comic Con had a daycare available, and we thought we would see Sean and Peggy, attend the LOST panel, and check out the exhibits.
Our plan was to wake up the girls, give them their bottles, and jump in the car to drive the 120 miles down to San Diego to make it in time for the 10:00 LOST panel. Unfortunately, I slept in and Agnes, who had been up since 3AM for work, took a nap. We didn't get on the road until 9AM. Five hours later, we made it to San Diego. The trip normally takes between two and two and a half hours, but there was traffic pretty much the entire way.
We entered the conference center and took this picture of the Comic Con banner.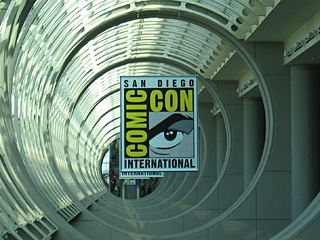 We picked up our conference badges, found the daycare, and decided to feed the girls their late lunch before heading for the exhibit hall. Here, I'm feeding Miranda.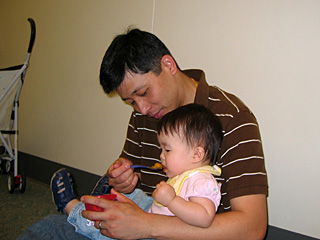 The daycare was pretty nice. There was a big room with a ton of toys, and quite a number of people watching the kids.
We wandered through the exhibit hall until we reached Artist Alley, and found that Sean and Peggy weren't there. Sean is working on a new book titled "Meltdown" (previously titled "Last Days of the Flare"), and so he decided to spring for a more prominently positioned table at the Independent Press section. Here's a picture of Sean and the writer for Meltdown, David Schwartz.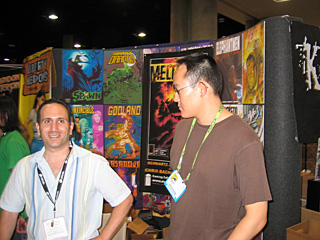 Keep and eye out for Meltdown when it's released in November.
We said "hi" to Sean and Peggy, and then went out to get some lunch. By the time we returned, it was 4:30PM, which is when we were originally planning on heading back home. We collected the kids from daycare, briefly wandered through the exhibit hall again, and dropped by Sean and Peggy's table again. Jun Nip was there, whom I haven't seen since college, and we said "hi". Unfortunately, I whiffed a soiled diaper, so we left pretty soon after that.
The drive home took less than two hours, and the girls were in bed by 8:00PM.
Overall, it was quite a different comic con experience than two years ago. We didn't get a chance to see a whole lot this time. One of the draws of the comic con is seeing everyone in their costumes (we saw someone dressed as an Elvis/Stormtrooper and "Al" from FMA made of duct tape and cardboard), but we were so rushed we just didn't take many pictures at all. The girls seemed to enjoy the comic con, though they only saw the daycare part of it—it was one big room with lots of kids and lots of new toys. Maybe when they're older, they'll enjoy it more.