Last Thursday, we got a letter from our local Honda dealership saying that they were interested in acquiring a number of 1997 Honda vehicles for their upcoming July 4th sale and that this weekend they would like such owners to come in and talk about possible trade-ins. It was kind of a strange letter — it was hard to tell if this was really any kind of special opportunity, but since we've been considering getting a minivan, we thought we would go in to talk to them. We had previously ruled out a wagon because we thought it would make us constantly bend over while trying to lift our kids out of the back. We ruled out an SUV because of safety reasons. We had a 1997 Civic HX Coupe and a 1997 Accord LX Sedan. Between the two, we thought we would trade in the Civic since a two-door car isn't going to be as useful after the kids arrive.
Prior to going to the dealership, we did a bit of research first. The Honda Odyssey got good marks from Consumer Reports. The top two contenders for minivans are the Odyssey and the Toyota Sienna. As we read through the various customer reviews, we came across several points of interest. Some people found the steering wheel of the Odyssey to be a little far away and thought it a shortcoming that it did not telescope. There's no coin holder. Some people found the arm rest so short that their elbow was barely resting on it. Some of the cup holders seem flimsy. On the whole, though, people seemed to like what they got. The other good thing about the review is that you could get a sense of what people actually paid for their Odyssey.
We also took a look at Edmunds.com and Kelly Blue Book. Edmunds gave us information about the MSRP and Invoice prices for the Odyssey as well as what they call the True Market Value (TMV). The TMV lists the national average selling price for the model we were interested in, as well as what kind of adjustment in price we should expect based on our zip code. Kelly Blue Book gave us an indication of what our Civic was worth for a trade-in.
When we got to the dealership, we were greeted immediately, and we talked about what we were interested in doing. Both Agnes and I test drove the Odyssey model we were interested in (the EX with leather — hopefully the leather will make it easier to clean up vomit and spills). I have to say that it certainly doesn't drive like other minivans I've tried. Agnes' mother has a Windstar that I've tried, and this has a much better feel overall. We then sat down to talk about trade-in prices and what we were willing to pay for the Odyssey.
We talked to the sales person, Reza. We talked to his manager, Ed. And finally, we talked to Ed's boss, Nasir. We started from pretty divergent points in both the trade-in value of the Civic as well as what we were wiling to pay for the minivan. When all was said and done (2 hours later and half a dozen attempts to walk out entirely), we had come to an agreement. We bought the Odyssey for almost exactly the price listed on Edmunds.com that we should have expected to pay, and we got something close to the Kelly Blue Book trade-in value for the Civic. In addition, they threw in some wheel locks (special lug nuts that must be removed with a key to prevent the wheels from being stolen), two free oil changes, and a free refill of gas. Yes, these extras don't really amount to much, but when we got to the end of the negotiation, we were trying to close the gap on about $100.
There were a couple of things we learned from the experience.
Get back the keys to your trade-in as soon as possible. We gave our keys to the dealer so they could appraise the car, and it put us in a position of needing to ask for the keys back in order to walk away from the deal.
Start the negotiations from the right numbers. We started the trade-in negotiation from the "trade-in" value listed in Kelly Blue Book, rather than the "resale" value. The trade-in value in Kelly Blue Book is lower than the resale value because it already accounts for the dealer costs in getting the vehicle ready to sell again. Starting from the lower number just put us in a worse position.
In the end, we bought the Odyssey, paid it in full, and drove it home. I'm a little sad that we no longer have the Civic. It was the first car we ever bought, and we liked it a lot.
Once we got home, we took pictures of our new minivan.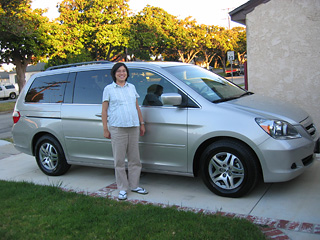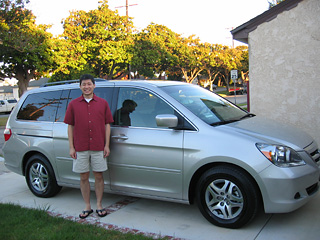 Besides being our first minvan, it's a first for a lot of other things. It's the first time we have a moon roof, remote entry, a CD player in the car, leather interiors, and heated seats. When they were showing us the various features of the minivan, they kept on saying "this works just like you would expect", and we kept on saying "but…".
The space is great and one of the big things we're happy about is we're going to feel a lot more comfortable putting the infant car seats into the Odyssey than we were with the pre-LATCH 1997 Accord. That's one more (very expensive) thing to check off of our list of things to get.