Based on a friend's warning that it takes something like 10+ weeks for a crib to be ordered, we went shopping today for a crib. Although the twins might be able to sleep in a single crib side-by-side for the first month or two, we knew we would need two. They do make specialty twin cribs, but they don't seem to be very common and they probably have added costs with non-standard mattresses and sheets.
We had read up on cribs in Baby Bargains, and had some idea of what we were looking for. We were looking for something pretty basic with a knee-push drop gate, hidden hardware, wheels, and multiple mattress heights. We weren't that concerned about whether or not it had a drawer or fancy detailing.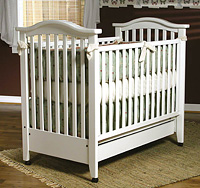 We went to a local store called USA Baby which is situated among several other furniture store and we ended up placing an order for two cribs by Legacy. Legacy is a brand of ChildCraft, a 95 year old company based in Indiana. They have a good reputation for quality, though they suffered some financial problems in 2004 due to a flood (according to Baby Bargains). The cribs were on sale and USA Baby gave us an extra 10% off of the second crib. They give that extra discount on anything where we buy a duplicate.
Overall it was a quick purchase, but reading back on Baby Bargains, it seems like it was a reasonable buy. The order time we were quoted was 10-14 weeks. If it takes 14 weeks, Agnes will be in her 39th week of pregnancy. Given that twins tend to arrive early, that'll be pushing it. We may need to use a Pack 'N Play for the first few weeks, but that should be fine.